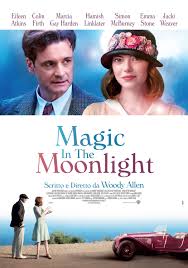 Charmiga Emma Stone. Charmiga Colin Firth. Charmiga Simon McBurney.
En historia om att inte tro på sånt som inte finns, om att vilja tro på det man ser och känner, om rädslan för att ens egen sanning kanske inte är den enda, om att föra andra bakom ljuset och om att hitta sin plats i livet.
Förra årets Woody Allen-film är ingen himlastormande upplevelse men småputtrig i all sin woodyiskhet. För egen del blev jag förvånad över hur svag personkemin mellan Stone och Firth är men 28 års åldersskillnad kanske gör sitt till? Det är kanske inte helt självklart att det ska osa värsta hardass-romantiken mellan en väldigt ung kvinna och en inte så ung man även om det i Woody Allens värld alltid har varit något av en praxis.
Magic in the Moonlight är såklart en måstefilm att se för alla fans av Herr Allen, alla andra kan utan att skämmas välja bort den. Se Stolthet och fördom, The amazing Spider-man 2 (eller Birdman) eller Rika vänner istället om du vill se dom tre ovan namngivna skådespelarna charma loss i bättre filmer.