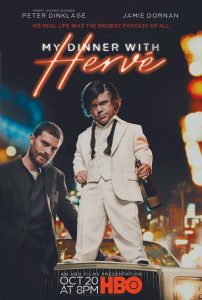 "His real life was the biggest fantasy of all." Det är denna films tagline och den man vars liv den åsyftas är Hervé Villechaize.
Jag tror att jag enbart sett Hervé Villechaize i filmsammanhang en enda gång och det är i rollen som Nick Nack i Bondfilmen Mannen med den gyllene pistolen. SÅ förutom att jag vet att han är en kortväxt kille vet jag ingenting, absolut ingenting. Att det nu finns en kortväxt skådespelare som inte bara är väldigt lik honom utan också väldigt begåvad och erkänd gör att Hervé – om han levt – säkerligen kunnat känna sig väldigt stolt över att bli gestaltad av ingen mindre än Peter Dinklage.
Rollistan till HBO-filmen My dinner with Hervé (vars titel väl måste vara nån form av homage till My dinner with André från 1981?) är imponerande rätt igenom. Mireille Enos, Andy Garcia, David Strathairn, Helena Mattsson som Britt Ekland och Jamie Dornan som journalisten Danny Tate som kämpar med att hålla flaskan stången och behöver göra ett brutalt jävla knäck för att chefredaktören ska överbevisas att han fortfarande har en plats på tidningen.
Jag tycker det här var en underhållande film och en bra biopic där scener från Hervés uppväxt vävs ihop med nuvarande liv OCH Dannys liv. Filmen utspelar sig 1993, vilket var Hervés sista levnadsår. Han blev bara 50 år gammal.
På nåt sätt är det alltid ett mervärde i att se biopics (även om kvaliten kan vara mycket skiftande i denna genre), man lär sig alltid något nytt och – som i detta fall – får inblick i en rätt intressant och excentrisk människas liv. En sevärd film som finns bara ett klick bort om du har HBO Nordic.