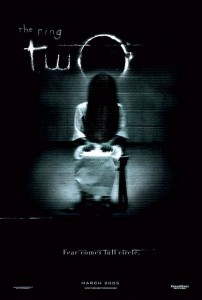 Naomi Watts hade lätt kunnat bli nästa års sommartema OM jag inte vore en sån icke tålmodig typ. Nu betar jag istället av dom filmer jag inte sett i sakta mak och nu har turen kommit till en film som jag BORDE ha sett för länge sedan, jag älskade nämligen The Ring. Det här är fortsättningen på den amerikanska remaken som kom 2002, fortfarande med Naomi Watts i huvudrollen som journalisten Rachel Keller.
Nu har hon och lille sonen Aidan flyttat till en mindre ort och ska börja sitt nya liv. Allt verkar lugnt och skönt till en början men snart tar sig en viss Samara-med-det-långa-håret sig in i Aidans drömmar och förpestar honom så pass att han – precis som alla andra som kommer i hennes väg – riskerar att dö.
Nej, nämen nej, det här var inte så kul alls. Det var inte speciellt otäckt heller. Fan också. Det intressanta med The Ring 2 är att den är regisserad av japanen Hideo Nakata, samme Hideo Nakata som regisserade originalfilmen Ringu OCH dess uppföljare Ringu 2. Borde han inte ha bättre koll på filmmakande än att släppa ut en film som inte är bättre än The Ring 2? Määääääääh, nääääääääh, jag vetefan. Usel är den inte men den är SÅ mycket sämre än The Ring på ALLA plan. Till och med Naomi Watts är sämre. Obegripligt, men sant.