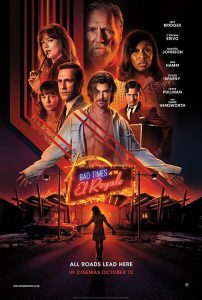 Tjolahopp tjolahej, det här är frejdigt och lekfullt och skitsnyggt och kräjsy och det är svårt att inte tjusas av denna film.
Jeff Bridges, Dakota Johnson, Jon Hamm, Cynthia Erivo, Lewis Pullman (ja, hans pappa heter Bill) och Chris Hemsworth som givetvis har uppknäppt skjorta håller i huvudrollerna och Drew Goddard står bakom manus och regi.
Samme Goddard gjorde The cabin in the woods härom året och i mångt och mycket berättar han denna historia på samma sätt även om filmerna skiljer sig en hel del åt när det kommer till genre. Det är annorlunda och kul. Och återigen, det är SNYGGT som fan!
Jag hade rätt höga förhoppningar på filmen, trailern var en höjdare och det fanns liksom ingenting med filmen som inte andades "världsklass" på förhand. Ändå, eller kanske trots det, blev jag liiiiite besviken. Hade förväntat mig mer även om det jag fick inte var illa på något vis. Filmen är skönt underhållande men med sina 140 minuter känns den på tok för lång. En ansning och killande av darlings hade varit ett plus för filmen men å andra sidan, vem är jag att klaga på dom ändå rätt goda ärtorna?