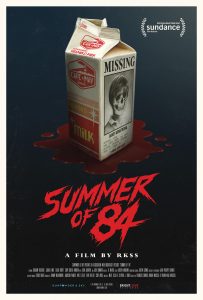 Filmen Summer of 84 är som en mix av ESSENSEN av allt som är 80-talsfilm. Fyra unga tonårskillar får för sig att en polis som bor i närheten är sen seriemördare som härjar i området. Det kan ju vara ett äventyr i sig att leka detektiv och "göra saker tillsammans" men i det här fallet, när folk faktiskt blir mördade, kan det också vara livsfarligt. Summer of 84 är alltså inte någon lättsam Stand by me eller Super 8, det här är en film som är spännande och otäck på ett annat plan.
Samtidigt, musiken, gjord av Jean-Philippe Bernier och Jean-Nicolas Leupi och den kanadensiska gruppen Le Matos (åååååh dessa LJUD!! <3) gör i princip hela filmupplevelsen för mig. Den gör att jag hamnar I filmen, att jag njuter av varje sekund och att jag inte riktigt vill att filmen ska ta slut. Men slut tar den och vad händer? Filmen känns fortfarande bra i min hjärna men den bleknar och Spotify tar över. Jag lyssnar på soundtracket i bilen och fortsätter njuta.
Betygsfyran dalade lite men en mycket stark trea landar filmen på. Soundtracket däremot, det är VÄRLDSKLASS, i alla fall för en 80-tals-synth-fanatiker som jag.
Filmen:




Soundtracket:






Här kan du lyssna på soundtracket – om du vill.