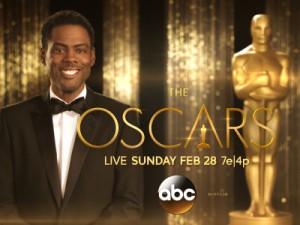 Årets oscarsnomineringar har offentliggjorts och därmed ställer jag mig och bonkar på stora trumman samtidigt som jag blåser allt vad jag har i hockeytutan: DET ÄR TÄÄÄÄÄVLING PÅ GÅÅÅÅÅNG!
Oscarsgalan sänds natten till måndagen den 29:e februari och tävlingen är öppen till kl 23.59 söndagen den 28:e.
Enligt uppgift ska galan sändas på Alftonbladet TV med deras filmskribenter som underhållning och sällskap i pauserna. Vill du ha ett alternativ till både skoj och sällskap kommer jag för sjätte året på raken att live-blogga hela natten lång och du är hjärtligt välkommen in här på bloggen och kommentera för fullt, eller bara läsa om du hellre vill det (såhär kan det se ut som ett exempel).
Men innan det är dags för gala ska det tävlas. Såhär går det till:
1. Gissa vinnarna i kategorierna nedan
2. Skicka svaren till fiffi@fiffisfilmtajm.se och märk mejlet med Oscars2016
3. Den som i det snabbast inskickade mejlet lyckats pricka in flest rätta gissningar vinner ett av mig noga utvalt filmpaket. Om två personer gissar precis lika vinner alltså den som skickade in tävlingsmejlet först. Filmpaketet kommer i år att vara hemligt men det är NAJS!
Det är dessa i kategorier du ska gissa vinnaren.
1. Bästa kvinnliga biroll
Alicia Vikander – The Danish Girl
Jennifer Jason Leigh – The Hateful Eight
Kate Winslet – Steve Jobs
Rachel McAdams – Spotlight
Rooney Mara – Carol
2. Bästa manliga biroll
Christian Bale – The Big Short
Mark Ruffalo – Spotlight
Mark Rylance – Spionernas bro
Sylvester Stallone – Creed
Tom Hardy – The Revenant
3. Bästa kvinnliga huvudroll
Brie Larson – Room
Cate Blanchett – Carol
Charlotte Rampling – 45 years
Jennifer Lawrence – Joy
Saoirse Ronan – Brooklyn
4. Bästa manliga huvudroll
Bryan Cranston – Trumbo
Eddie Redmayne – The Danish Girl
Leonardo DiCaprio – The Revenant
Matt Damon – The Martian
Michael Fassbender – Steve Jobs
5. Bästa regi
George Miller – Mad Max: Fury Road
Lenny Abrahamson – Room
Tom McCarthy – Spotlight
Adam McKay – The Big Short
Alejandro G. Iñárritu – The Revenant
6. Bästa make-up & hår
Mad Max: Fury Road
Hundraåringen som klev ut genom ett fönster och försvann
The Revenant
7. Bästa originalscore

Spionernas bro – Thomas Newman
Carol – Carter Burwell
Sicario – Jóhann Jóhannsson
Star Wars: The Force Awakens – John Williams
The Hateful Eight – Ennio Morricone
8. Bästa film
Spionernas bro
Brooklyn
Mad Max: Fury Road
Room
Spotlight
The Big Short
The Martian
The Revenant
9. Extrafråga.
Gissa min puls under utdelningen av Bästa manliga birollspriset. Både Stallone OCH Tom Hardy kommer vara i bild. Samtidigt!
Lycka till!